Return to the previous opening times from September 1st: Tue–Fri 11am– 5pm, Sat + Sun 11am–6pm

Dear friends of the "Glaskasten",
dear guests,

in the meantime our new exhibitions "Günter Haese - weightless. Spatial sculptures made of wire" and "Gereon Krebber - Keramocringe" have been opened and will be shown until October 24, 2021.


In cooperation with the insel-VHS, bike tours to works of art and other sights in the city are taking place this autumn. Please scroll down for more information.


Your museum team
Projekte
Sculpture tour via Bycicle
For many, the Marl Center with the town hall towers is itself a total work of art. There, in particular, around the sculpture museum and the city lake, there are many works of art from the city's rich collection. But do you also know the hidden art locations? What else is it that makes Marl so special? After a short introduction, you cycle past the lake to the theater z. B. to a well-known and perhaps the most controversial object in the city. Then after roaming the Alt-Marl cemetery, Marl's architectural treasures are discovered before we take a look at the exterior of the Paracelsus Clinic. From there it should go over the Gänsebrink and the Hüls market square to Sickingmühle, until we have reached our end point, the old waterworks, meanwhile the landscape art work "Water Levels" by Hermann Prigann between the Wesel-Datteln Canal and Lippe. It is an easy tour and particularly recommendable for those who are interested in getting to know Marl from a sharper point of view or want to see it anew.
Meeting point with your own bicycles: 2 p.m., Creiler Platz, end point: water levels, old waterworks approx. 6 p.m. (return tour to the center optional)
Saturdays, September 18, October 2, October 16, November 6, 2021
Registration under 02365/992257 (during the current opening hours of the museum);
The group size is limited to 12 people. Participation is free.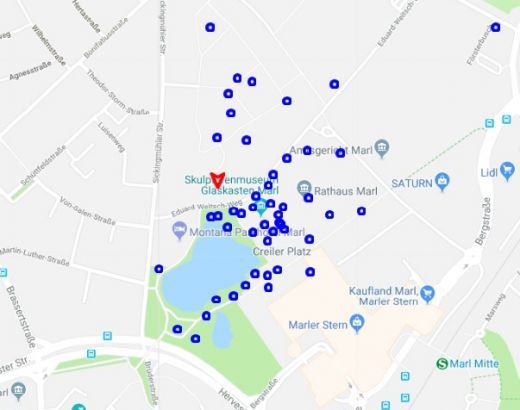 Sculpture in Marl
The Marl city centre is home to an unusual density of high-class works of art, a fact that visitors to the city notice straight away. Many of the residents of Marl have grown up with the sculptures, which have been a constant presence in the city since the early 1960s, long before the Skulpturenmuseum was founded in 1982. Some of the works were even purchased before the Rathaus was built from 1960 through 1967. A whole series of sculptures came to Marl as a result of the legendary 'Kunst und Skulptur' exhibitions in 1970 and 1972, when Holland and Switzerland were each invited guest countries. The open-air presentations were revolutionary for their time, and when they concluded, the works were purchased by the city. This group also includes 'Naturmaschine', by Brigitte und Martin Matschinsky-Denninghoff (1969), certainly one of the most popular sculptural works in the city. Generations of children have climbed around on the work. Strolling by and seeing children playing on it today reminds many an adult resident of Marl of his or her own childhood.