Free tours on Thursdays at 3.30 p.m. and Sundays at 11.30 a.m.

Dear friends of the glass case,
dear guests,

Due to the pleasingly falling incidence in the Recklinghausen district, the Glaskasten Sculpture Museum has had new opening times since June 19.
Guided tours can also take place again.

A visit is possible under the following conditions:

Data collection for traceability
Guest limitation to 1 person per 10 sqm

Guided tours with a maximum of 19 guests
Opening hours:
Tue - Fri 2 p.m. - 5 p.m., Sat + Sun 11 a.m. - 6 p.m.

Free tours on Thursdays at 3.30 p.m. and Sundays at 11.30 a.m.


In addition, of course, all other usual rules apply, in accordance with the current Corona Protection Ordinance and the current Infection Protection Act.

We look forward to seeing you again.

Stay healthy!

Your museum team
Projekte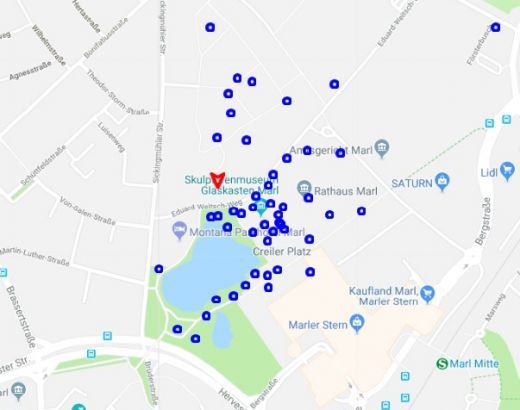 Sculpture in Marl
The Marl city centre is home to an unusual density of high-class works of art, a fact that visitors to the city notice straight away. Many of the residents of Marl have grown up with the sculptures, which have been a constant presence in the city since the early 1960s, long before the Skulpturenmuseum was founded in 1982. Some of the works were even purchased before the Rathaus was built from 1960 through 1967. A whole series of sculptures came to Marl as a result of the legendary 'Kunst und Skulptur' exhibitions in 1970 and 1972, when Holland and Switzerland were each invited guest countries. The open-air presentations were revolutionary for their time, and when they concluded, the works were purchased by the city. This group also includes 'Naturmaschine', by Brigitte und Martin Matschinsky-Denninghoff (1969), certainly one of the most popular sculptural works in the city. Generations of children have climbed around on the work. Strolling by and seeing children playing on it today reminds many an adult resident of Marl of his or her own childhood.