Symposium CITY PLANNING ART
Buildingcultursymposium on Tuesday 26 September 2017 at the LWL Museum of Art and Culture in Münster.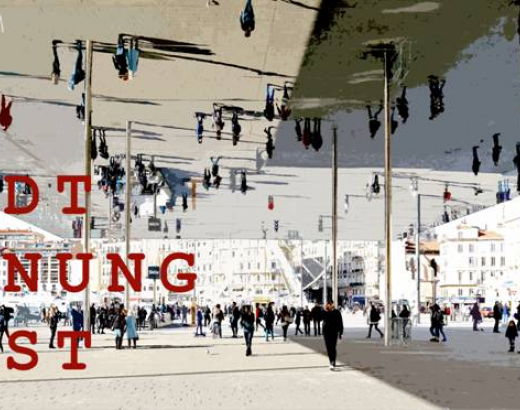 Re-enactment of the Performance by Reiner Ruthenbeck
The performance of Reiner Ruthenbeck will be performed on Sundays between 11.30h and 13.30h.
Projekte
The Hot Wire
A collaboration between Skulptur Projekte Münster and Skulpturenmuseum Glaskasten Marl
documenta Athens and Kassel, the Venice Biennale, Skulptur Projekte in Münster: The hot art summer is already casting its shadow. This year, the shadows extend to Marl: THE HOT WIRE is a collaboration of Skulpturenmuseum Glaskasten Marl with Skulptur Projekte Münster. With the Westphalian city of Marl, Münster is expanding the object of its study – with its tradition for art in the public space, the city in the Ruhr region offers an exciting counterpoint. Because both topographically and sociographically, Marl marks the interface between the Ruhr region and Westphalia/Münsterland and has a tradition of its own in the realm of art in public space. There, the relics of a visionary building culture can still be seen and experienced.
Artists involved
Richard Artschwager, Helmut Bettenhausen, Guillaume Bijl, William Brauhauser, Eberhard Bosslet, Richard Deacon, Mark Dion, Lara Favaretto, Günter Fruhtrunk, Louis van Gasteren, Isa Genzken, Ludger Gerdes, Alfio Giuffrida, Rolf Glasmeier, Dominique Gonzalez-Foerster, Werner Graeff, Manuel Graf, Friedrich Gräsel, Keith Haring, Karl Hartung, Elizabeth Hoak-Doering, Jan Hoeft, Shirazeh Houshiary, Berthold Hörbelt, Thomas Huber, Joseph Jaekel, Mike Kelley, Gisela Kleinlein, Diethelm Koch, Thomas Köner, Christina Kubisch, Sol LeWitt, Gustav Metzger, Charlotte Moth, Ulrich Möckel, Matt Mullican, Ansgar Nierhoff, Sany (Samuel Nyholm), Claes Oldenburg, Jorge Pardo, Stefan Pietryga, Heinz-Günther Prager, Random People & Red Park, Johanna Reich, Gerhard Reinert, Erich Reusch, Reiner Ruthenbeck, Matthias Schamp, Corinna Schnitt, Thomas Schütte, Richard Serra, Bert Theis, Rosemarie Trockel, Joëlle Tuerlinckx, Micha Ullman, Timm Ulrichs, Rudolf Wachter, Nico Joana Weber, Julia Weißenberg, Pae White, Wolfgang Winter
Sculpture in Marl
The Marl city centre is home to an unusual density of high-class works of art, a fact that visitors to the city notice straight away. Many of the residents of Marl have grown up with the sculptures, which have been a constant presence in the city since the early 1960s, long before the Skulpturenmuseum was founded in 1982. Some of the works were even purchased before the Rathaus was built from 1960 through 1967. A whole series of sculptures came to Marl as a result of the legendary 'Kunst und Skulptur' exhibitions in 1970 and 1972, when Holland and Switzerland were each invited guest countries. The open-air presentations were revolutionary for their time, and when they concluded, the works were purchased by the city. This group also includes 'Naturmaschine', by Brigitte und Martin Matschinsky-Denninghoff (1969), certainly one of the most popular sculptural works in the city. Generations of children have climbed around on the work. Strolling by and seeing children playing on it today reminds many an adult resident of Marl of his or her own childhood.